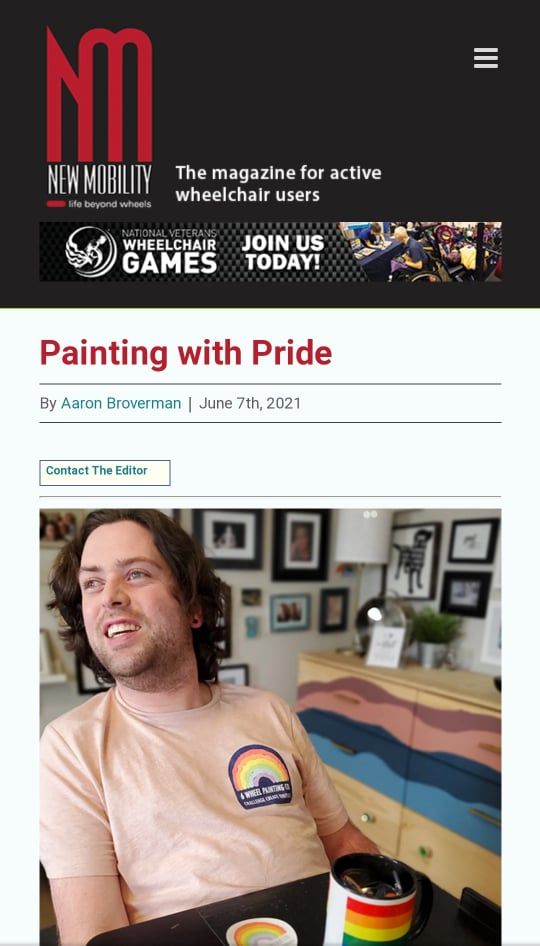 As the world went into lockdown in March 2020, David Wudel, 33, picked up a brush and started painting. He called it a hobby out of necessity. 
Not only was the Calgary, Alberta, native with cerebral palsy feeling pent up and depressed as his world was suddenly restricted to his apartment, but he was still dealing with mixed emotions and anxiety stemming from his coming out as a gay man just a year earlier in June 2019. 
His family was very supportive when he came out and it was actually his older sister's wedding to her girlfriend that inspired him to tell them his own truth. But it was painting that helped him deal with his own residual feelings of self-acceptance. 
"Now I was out to the world, and it was up to me to accept who I was because for so long I suppressed it. Having cerebral palsy and being a full-time wheelchair user is a label within itself, and for many years I didn't want to be known as the disabled gay guy," says Wudel. "Not that I'm ashamed of my CP, but there's still a stigma around disability and being part of one minority was hard enough." 
When Wudel picked up a paint brush on a whim, all that emotion started to flow out of it. That first painting, called "Colourful Chaos," was marked by what would become his trademark going forward: bright colors, bold strokes and abstract, interpretive forms. It fit exactly how he felt as the world entered lockdown. Its description reads in part, "This painting seeks to express the idea that no matter how chaotic things are, there are always colourful nuances and beauty everywhere, even if hidden under the surface." It's marked by a deep, vibrant blue with bright purples and greens mixed over top, all on a black background. 
"I like to use a lot of color in my work — the brighter the better. My whole thing is I want to create a lot of positivity and acceptance with my work, and there's no better way to do that than through bright, vibrant colors." 
Building a Modest Business 
He put that first painting on Instagram and within the first week, he'd sold it for $50. He has only sold a few since then, ranging from $50 to $200, but he now has his own website, 6 Wheel Painting Co. — named after the six wheels of his wheelchair he gets around on everyday — and 14,900 followers on Instagram. 
"I'm now up to doing about two paintings a week," says Wudel. "Thanks to the support of my friends and family, this is a business — not a very lucrative one but a business just the same." He never dreamed he'd be able to turn his little pandemic creative outlet into a business, even if a pretty modest one 
However, those who love Wudel's work love it a lot, appreciating his use of color and recognizing the depth and texture of his compositions. 
"The painting we bought is several angled colors in wide swaths and some of them are really pure and vibrant, like electric blue and bright pinks and greens and then some muddier colours," says Parker Johnson. "It reminded me of a pride flag with a lot of these rainbow colors, but it wasn't just primary colours — it had a lot of depth to it. And because it was a palette knife painting you get a lot of those ridges where the paint went with the knife on the wood he painted on." Johnson and his husband, Preston Brasch, met Wudel in 2019 and have been friends with him ever since. 
As for his technique, Wudel says he puts on loud percussion music and just lets his spasms take over and guide the paint where it wants to go. 
"I just remember what Bob Ross used to say, 'There are really no mistakes, only happy accidents," says Wudel. 
Sometimes he paints with a brush and sometimes a palette knife — he uses the tool that is more likely to capturing his mood at the moment. Either way, for Johnson and Brasch at least, Wudel's definitely getting results. 
"Art is so subjective. But when your friend starts doing art you really hope it's good because you don't want to have to tell your friend you don't like their work," says Brasch. "When I started seeing the work David was putting out there, I told him it was such a relief because I really loved it and I was so thankful I wouldn't have to lie." 
Connecting to a queer identity 
Wudel paints to bring some positivity into an otherwise dreary year and process his feelings around being a gay person with cerebral palsy. Also, painting gives him an escape from the more right-wing residents with disabilities in his building who call him homophobic slurs like "fairy" when they see him in the halls. Brasch and Johnson find themselves on a similar journey to Wudel — also wanting to connect more to their queer identity and inject some positivity into their lives. 
"It's this subtle gay pride abstract painting, and both Preston and I have been trying to embrace that side of ourselves," says Johnson. "Both of us are white cis-gender men so we tend to pass a lot in society, but we've been trying to dig deeper into our gay history, culture and stories and just be a little more intentional about it in our home. We don't really have anything that's overtly gay and we've been trying to reapproach that by reframing our stories in a positive way and own our queerness." 
With each painting he does, it's getting easier for Wudel to own his queerness as well. 
"I notice now that I'm more at peace. Before I didn't think I had a voice, but I realize now that my voice is pretty loud and pretty powerful," he says. "Everybody has a story to tell, and I feel extremely blessed to have the life that I do, the talent that I do and the support system around me to express all my feelings because I know not everyone has that same opportunity after coming out." 
To purchase one of David Wudel's paintings, visit www.6wheelpaintingco.com. To hear more from David, listen to his recent interview on fellow queer CP traveler Andrew Gurza's Disability After Dark Podcast. Below is an interview the Fairy Tales Queer Film Festival Talk with Wudel.